"Toward a Greener Attica: Preserving the Planet and Protecting its People"
The 9th Ecological Symposium of the Ecumenical Patriarchate
With the participation of the Volos Academy for Theological Studies
On June 5-8, 2018 the 9th international ecological symposium on the topic "Toward a Greener Attica: Preserving the Planet and Protecting its People," was successfully held in Athens, Spetses and Hydra. It was organized by the Ecumenical Patriarchate and concluded aboard the "Platytera" ship as participants returned from Spetses to Athens.
The title of the conference refers to the fact that there are countless places in the world that need the "green of hope." Different concerns and proposals were developed by distinguished participants around this idea, while vivid discussions on the mutual relevance of ecological and social problems and their connection to the globalized model of economic development and political governance took place.
The dense references to Greek reality in particular were quite enlightening, since they focused on the problem of the ever-increasing influx of immigrants and refugees into the country, and on the ways in which the Church, the State and social actors are trying to deal with it.
In his concluding remarks, Ecumenical Patriarch Bartholomew emphasized the long journey from the mind to the heart and to the hands, while recognizing that there was so much more that could be achieved if all institutions and disciplines worked together.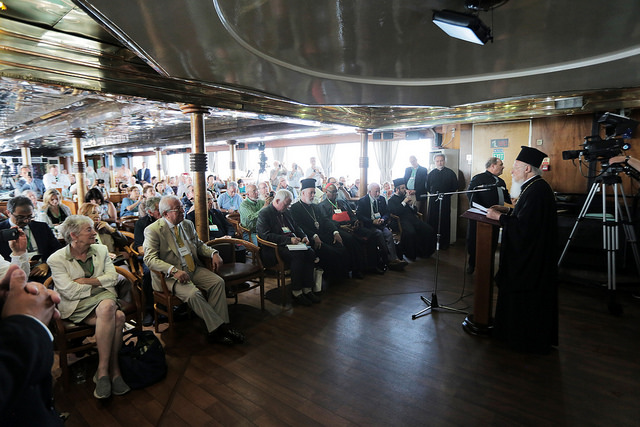 Many participants stressed that the ecumenical activities of the Ecumenical Patriarchate and the promotion of the "culture of solidarity" have a global impact, while they inspire and encourage religious and social institutions as well as the scientific community to further develop their co-operation with it and their activities in their own field.
The symposium brought together 200 theologians and scientists, political and business leaders, professors and students, as well as activists and journalists from Asia, America, Africa, Europe, and Greece. Previous symposia, which date back to 1996, were held in the Black Sea, the Adriatic Sea, Danube and the Amazon River, the Arctic Ocean and the Mississippi River.
The Volos Academy for Theological Studies was represented by its Director Dr Pantelis Kalaitzidis (Lecturer, Hellenic Open University; KU Leuven Research Fellow) and Dr. Nikolaos Asproulis (Lecturer, Hellenic Open University).
To see detailed information about the program, the participants and photos of the conferences please visit the official website of the conference.